Today, I stole a few minutes in broad daylight and in full sight of my children, to sit on the front porch and read a magazine. If I'm being honest, I read one magazine article.  I usually read magazines after the kids are in bed or while I am working and they are at achool–hey, it's legit, I'm a pop culture magazine writer!–when I can digest an entire issue in under an hour, the fact of reading an entire article during the day is a quantifiable BIG DEAL. I won't tell you how long it took me and how many interruptions I overcame—because instead of feeling triumphant, I'll just get depressed because I still have not gotten my kids to understand the value of not interrupting their mother.
I chose to read the current Summer Double Issue of New York Magazine,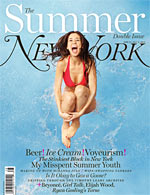 and I was immediately determined to read—and finish—the story that belonged to the cover line: Making Up with Miranda July. I had to see what this was about. You see, I have seen The Future, the film by performance artist Miranda July, which opens in limited release on July 29, and should be required viewing for anyone considering "adopting a cat."
(Crazy sidenote: I'm writing this during the Macy's Fourth of July Fireworks Spectacular, and as I type, Brad Paisley is singing his hit single, "Welcome to The Future.")
I thought it was brilliant. I saw it at the 2011 Sundance Film Festival. You have to believe me when I tell you that the presence of a talking cat in the film only enhances the cloak of hyper-realism that engulfs the film. The story focuses on Sophie and Jason, a 35 year-old couple who contemplate whether adopting a stray cat will keep them from achieving their dreams. The cat is ill, and requires quarantine, and Sophie and Jason, hipster slackers, have determined to use the period of quarantine to try to reach their creative zenith. 'Cause, you know, life ends when you get a cat. Doesn't it?
When I left the theater on that cold January morning, I felt like I'd seen The Future—the truth about what Sundance films mean. You need to see them to know what's coming next in the film world. But I also felt like I got a very intimate and honest look at how a relationship unravels.
That same week, I was invited to a dinner by Chase Sapphire, a festival sponsor. I was expecting a cattle-call buffet of heavy hors d'oeuvres. What I got was an intimate dinner at Park City's Wahso with director Miguel Arteta, who had a film called Cedar Rapids at the fest, and some Chase Sapphire customers who cashed in reward points and got, in return, a festival experience that included lodging, lots of movies, plus chance to chat up a famous director. It was pretty cool, I must say. Arteta proved to be engaging, charming, and genuinely interested in what everyone had seen. But never more keenly than when I said, yep, I'd seen The Future.
"What did you think??" He asked with an intensity that I found both endearing and a little surprising.
I returned his intensity, telling him I thought it was everything a Sundance film should be: a little disorienting, a lot thought-provoking, and so specific in its intention and execution that there wasn't a wasted raised eyebrow. Ski Dad picked up on something more, though: "Why are you so curious?" Miguel (we were on a first-name basis by now) was quick to explain.
"I used to go out with Miranda. We were engaged. And that film is the story of our breakup."
Ski Dad looked a bit alarmed. "Please tell me that you knew that before you saw it!?"
Indeed he had–he went on to say that he and Miranda had met when he mentored her at the Sundance Fillmmakers Lab. And that the only bone he had to pick was that he wished the actor who'd played him had been more attractive. Hamish Linklater, the actor who played Jason is very good looking. So is Miguel. Here's proof, by the way, as photographed by Ski Dad.
By now, I felt completely attached to the film. It really is one of those films that, if you love it, you love it completely. And you feel like you own it a little. In a good way.
I also felt hip. By association. Because, let's face it. I'm not now, nor have I ever been, hip. And certainly, I've never once been a hipster. But when I saw Project Miranda July in New York Magazine, by Michael Idov  I was smitten. Everything about his story—he'd once written a song depicting his hatred for Miranda, and now asked her to co-write a revision, a love note—was the perfect complement to the film. Here, too, is something cool. I've never considered myself a performance-art kinda gal. And in the same way I thought you had to know everything about wine to enjoy a visit to the Napa Valley (boy was I wrong!), I used to think you had to be immersed in the genre to "get" performance art. Turns out, a person can dabble.
And that, my friends, is what made the stolen time worth it. Not only was I transported by the story itself (well-written magazine articles are a joy to behold), but I was transported back to one of my favorite moments of 2011–and transformed into the kind of person who thinks, I really should partake of more peformance art.